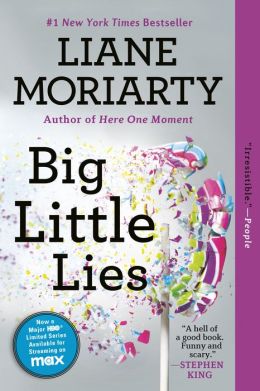 Love psychological thrillers? Then look no further than Liane Moriarty's Big Little Lies.
"Who did it?" Someone has died at the Pirriwee Public School Trivia Night. That's the big questions that come to play when reading "Big Little Lies". Sometimes, the little lies reveals the corruption beneath the surface.
This rapid, page turning book describes the lives of the mothers whose kids all go to the same school. They live in this small Australian town that may seem ordinary to the naked eye–a bunch of mothers doing boring, everyday things, but outsiders may not know about the secrets in this gossipy town.  The book also explores the interactions between people and social classes.  Liane Moriarty uncovers the skeletons these mothers may be hiding in their closet, from past affairs to predators to bullying and domestic violence.
The book starts off with happily married Madeline tripping in the middle of the street after telling off some teenagers who were texting and driving. Passerby 24-year-old "plain Jane" then comes to her rescue. They don't have really anything in common, except that their children are in the same kindergarten class. However, they quickly become friends and bring another mother, Celeste, into the mix.
These women hold two big secrets, with Jane holding the bigger one. The thing is that she doesn't know the entire truth. Some questions will come up about her past, and it turns out Celeste knows someone that is connected to Jane's past.
Big Little Lies could have ended up as one hot mess with all kinds of unruly details that are out of place, but Moriarty's overall writing and in depth character development made the book interesting. She gave these characters such a backstory that their pasts intertwine with each other, and that is something a majority of readers may not see coming.  Also, the murder was introduced within the first few scenes of the book, so it did foreshadow the inevitable that will happen later in the book.
However, some readers might find it hard to follow along because the present and future are mixed together. In one paragraph, Moriarty will reference what will happen at trivia night by including police officers and opinions from other mothers. In the next paragraph, she will jump back to the weeks and months leading up to that tragic night.
Still, praise for Moriarty for neatly tying all of the details together in the end. This is a book that will open up all kinds of discussions and keep everyone talking.
Big Little Lies is available in the United States, Canada, Australia and the U.K. through Penguin Publishing.